Benefits of ViewPro GeoComment
Targeted engagement
GeoComment provides planners an ability to target diverse on-the-go demographics who have access to smartphones, tablets and desktops.
Bring flexibility in engagement
Allows citizens the flexibility to get involved with engagement projects at a time and place of their choice and convenience.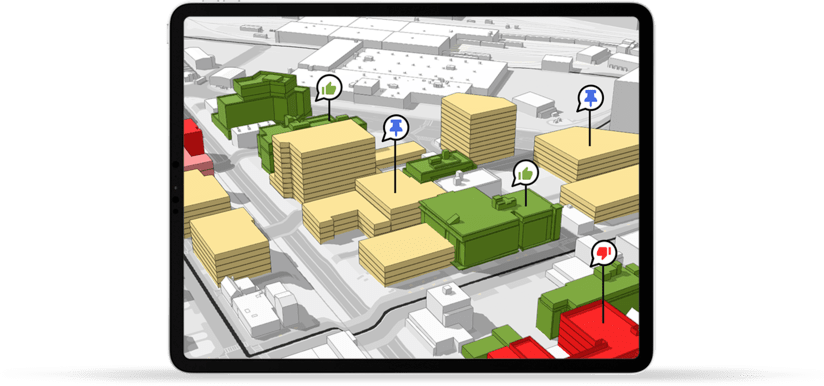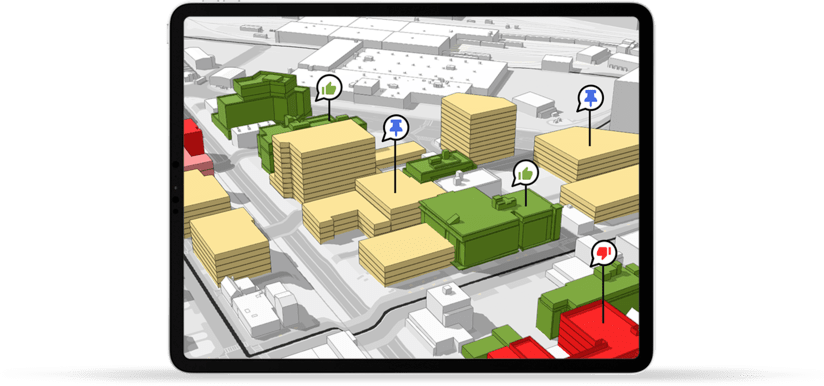 Access to other ancillary applications
A consolidated offering to serve multiple objectives – Zoning, Public Participation and Economic Development all under one platform.
Require minimal or no technical training
Platform common with all other ViewPro products so the users can participate without having to re-learn a new software or a system.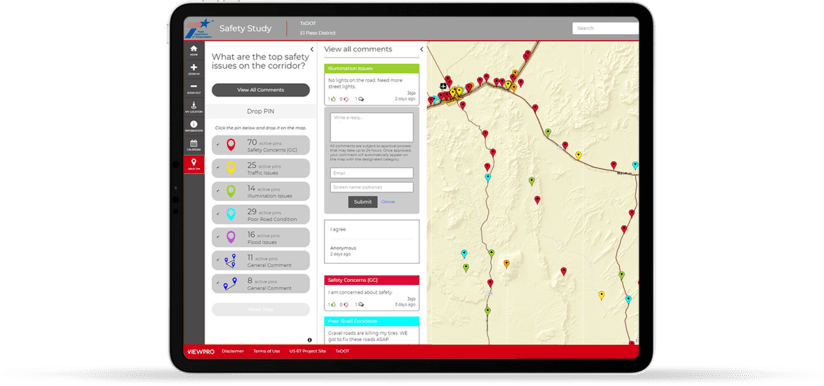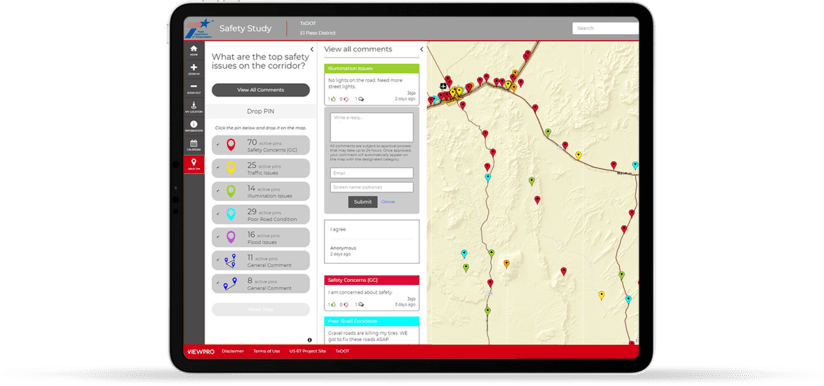 Enhanced security measures
Client Admin can screen all incoming comments to ensure highest level of quality control.
Export data to other preferred formats with ease
Ability to export all incoming comments in most commonly used 3rd party software.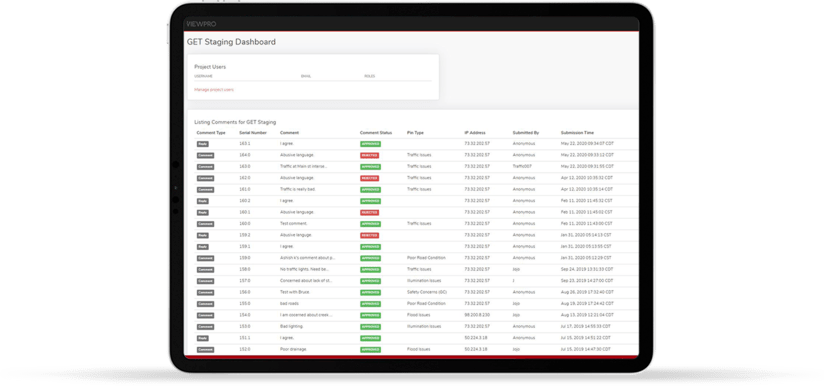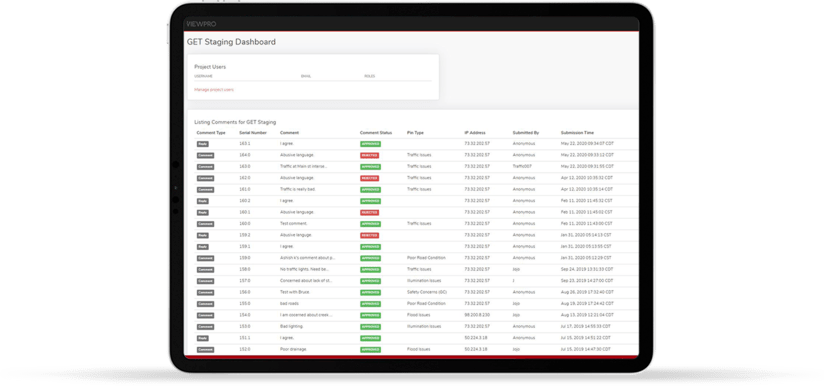 Adopt to changing ways of communication
Equal opportunity for everyone to voice their opinion including hard to reach minorities and physically disabled demographics.
Intuitive user experience
GeoComment offers an easy to use user interface and requires minimal or no technical expertise to access the application.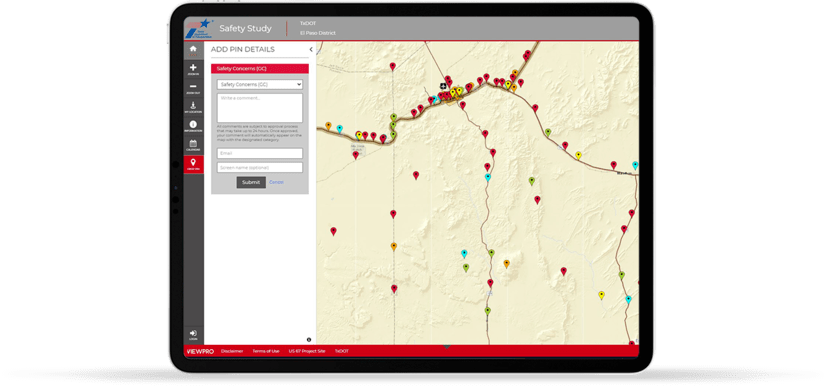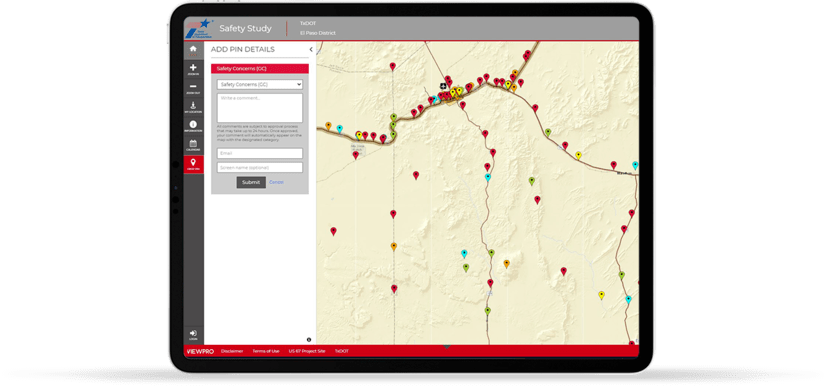 Case Study
Public Participation
US67 Safety Corridor Study, TxDOT
Learn how TxDOT managed citizen engagement process through an interactive GIS platform.
View Case Study
Words from our client
The engagement through ViewPro has helped us clearly identify issues, solutions, and suggestions from our public.
ViewPro team is very knowledgeable, intuitive, and personable in their expert delivery of technical skills, customer service, and adaptability. I've thoroughly enjoyed brainstorming ideas with their team and seeing those ideas come to life in a way that serves my office well. At the City of Covington, we've utilized ViewPro to engage our citizens in a huge undertaking: rewriting our local zoning ordinance and creating a new district map. The engagement through ViewPro has helped us clearly identify issues, solutions, and suggestions from our public. When we need engagement like this next, ViewPro will be the first group on our minds.
Christopher Myers
Planning Specialist
City of Covington, KY
enCodePlus collaboration
Frequently Asked Questions
What is the role of GIS in Citizen Engagement?
In recent years, citizens' expectations of government have changed radically. Citizens have started to expect more information, data transparency, more dialogue and more involvement into decision-makingprocess with all levels of City Government. To void this gap more and more cities are increasingly working towards establishing their own digital footprint so that right information can be served to the citizens and stakeholders in a timely and efficient manner.
GIS has proved its rightful place in city governance for its ability to effectively communicate geographic data with accuracy and with an instant access to the data. GIS tools has also enabled on-the-goparticipation to include a new generation of citizens and allow participation at their choosing of time and place.
How does GeoComment help local governments?
Planners at ViewPro recognizes the importance of citizen engagement within various layers of local governments. In order to provide a unified user experience, ViewPro extended its platform to accommodate map based on- the-go participation tool called GeoComment.
GeoComment is a 3D interactive GIS tool for citizen engagement designed for specific needs of City Planners and the decision makers at the City Hall to facilitate communication between a local government and its citizens to have meaningful input into the decision-making process.
GeoComment uses adaptive map based GIS tools to enable on-the-go participation to include a new generation of citizens and allow participation at their choosing of time and place. GeoComment allows the city staff, citizens and stakeholders of governance projects to interact digitally and offer meaningful inputs into the decision- making processes at all stages of project development.
Who is the primary audience for GEOZONE GIS product?
GeoComment is primarily designed for local and state government who leads the Planning efforts from the front and has clear needs to connect with its citizens and stakeholders to develop a transparent dialogue and drive decision -making. The typical profile with the local government includes City Planners, Planning Directors, City Secretaries and Elected Officials.
ViewPro also enjoys partnership with many Urban Planning consultants who leverage GeoComment to extend their capabilities to reach out their desired audience to gain more support for the envisioning process and planning related work (comprehensive plans, small area plans, corridor plans) into easy to use and operate mapping capabilities while extending their technical offerings.
What is the ownership cost for GeoComment?
ViewPro's GIS products including GeoComment are designed in a Software-As-a-Service (SAAS) configuration. This allows ViewPro to spread the cost of development across all of their city and local government clients. This results in significant savings and more standardized approach in how various GIS products are designed and offered.
With the support of a few dozen city clients and agile SAAS platform, ViewPro is continuing to innovate and develop new product features without having to add additional cost burden to our current and future city clients. We at ViewPro like to keep things simple.
What to learn more?
Take advantage of 15 minute complimentary session with our planning and GIS experts.